The Report Center is an AgilePoint NX component where you can create, run, and configure reports and reports settings related to data in your apps.
The Report Center component (sometimes referred to as AgileReports) can only be used by customers who purchased this component before April 1, 2020. This version is no longer available for purchase, including by current and previous purchasers of AgilePoint NX or the Report Center component. In AgilePoint NX v8.0 and higher, Report Center has been replaced with the
Analytics Center
component.
Report Center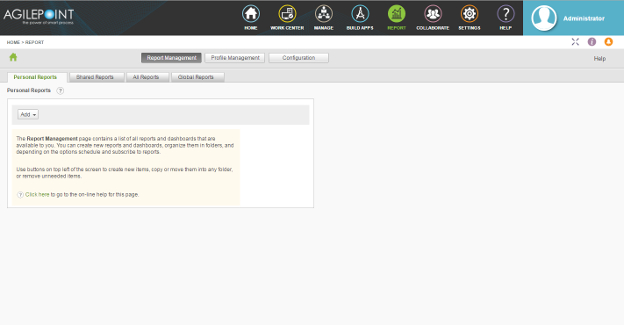 In AgilePoint NX, Report Center replaces the AgileReports component from AgilePoint BPMS v5.x
Related Topics
For Report Center documentation, open Report Center, and click the links for the online help.
Also refer to:
Video: Create Your First Report
About This Page
This page is a navigational feature that can help you find the most important information about this topic from one location. It centralizes access to information about the concept that may be found in different parts of the documentation, provides any videos that may be available for this topic, and facilitates search using synonyms or related terms. Use the links on this page to find the information that is the most relevant to your needs.
Keywords
Report Center, reports, reporting, AgileReports